There's nothing quite like decorating for Halloween. Whether you're hanging faux cobwebs above your dining room table, rigging creepy crawlers to jump out at unsuspecting passersby, or getting cutesy with candy corn cutouts, putting up Halloween decorations can be almost as fun as celebrating the holiday itself.
You want to make sure your front yard is oozing with the holiday spirit for your visitors. If you want to go beyond the expected Jack-o'-lantern, consider getting a bit more involved with these outdoor Halloween decorations.
1 BAT HALLOWEEN DECORATION
Bats are a great decor option for feeling festive but not too scary on Halloween. A set includes 16 bats, and the product has over 1,000 5-star reviews, so you can be sure you'll love them, too.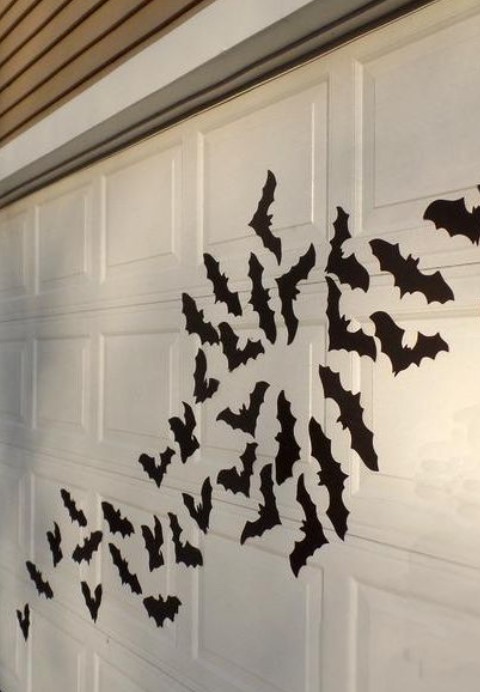 2 SPOOKY FRONT YARD
Hanging ghosts and skeletons greet trick or treaters as they make their way up the path.
3 ENTER AT YOUR OWN RISK
Two rows of jovial jack-o-lanterns guide cautious guests toward the door. Soccer goal netting is draped halfway over the roof, offering a clever method to attach webs and giving one spider a fun way to greet newcomers.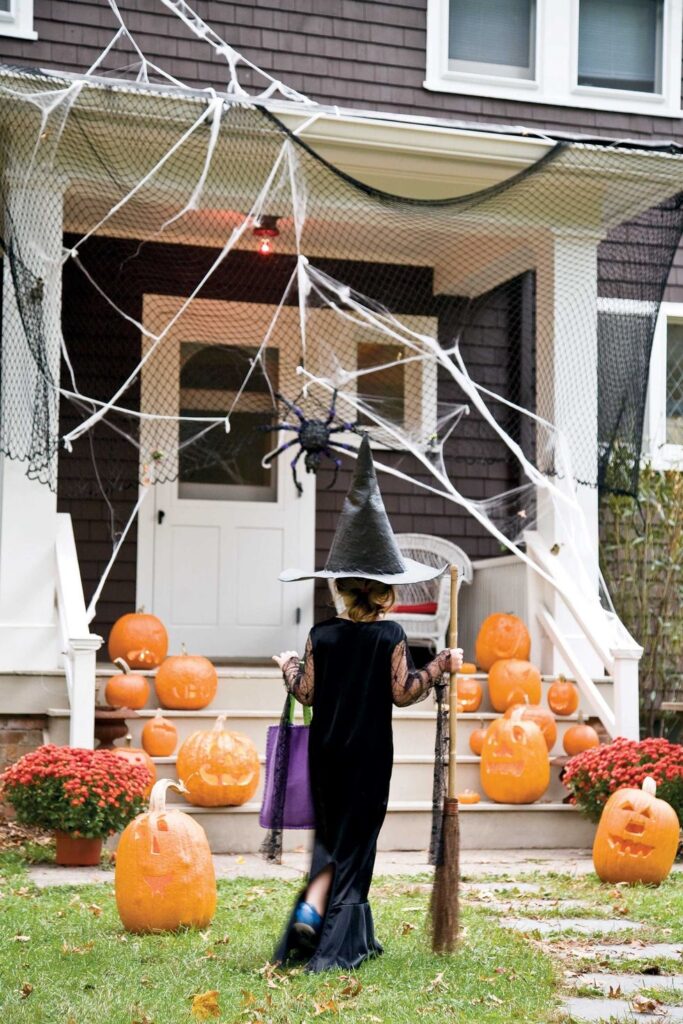 4 FALL INTO AUTUMN
This pretty display sets the tone for a harvest-style holiday. Stenciled, halved Fun-Kins anchor a cascade of maple leaf garlands. Add potted mums in apple baskets and sugar pumpkins striped with dried corn husks for a front door that will last into Thanksgiving.
1. Use a utility knife to halve two Fun-Kins lengthwise.
2. Print and cut out stencils for the word BOO.
3. Trace each letter onto a halved Fun-Kin with a pencil.
4. Use small paintbrush to apply gold enamel paint inside lines; let dry.
5. Hang on door with Command wire hooks.
5 CLASSIC HALLOWEEN FRONT DOOR
1. Trim orange wrapping paper to the height of the door; secure with masking tape.
2. Overlap another sheet to cover the rest of the door; tape down.
3. Lay gold glitter paper facedown and use a ruler to draw an eye (a triangle with 12″ sides), nose (a triangle with 10″ sides) and lopsided smile.
4. Cut out, arrange and tape to the door as shown.
5. Cut a small hole in the top of each large pumpkin with a craft knife.
6. Insert the leaf branches; push down until secure.
7. To keep the branches upright, tap a picture nail into either side of the door frame; secure each branch with fishing line.
8. Spray-glue small pumpkins; dust with glitter; let dry.
9. Arrange cabbages and pumpkins in planters on the steps.
10. Add faux crows, if desired; secure with fishing line as needed.