Handun Divia, a rare type of leopard and it is the fishing cat (Prionailurus viverrinus) one of the endangered species in
They frequent water bodies mostly wading to catch fish and are piscivorous.
That is why they are called fishing cats. This peculiar animal has short limbs and a strong body. Its long head is especially helpful when it is diving and its tail is short and is roughly one-third the length of its body.
Fishing cats were forced to explore a new niche in order to survive they turned to the swamp in order to conquer this new biome fishing cats had to develop a whole series of adaptations in the world of small cats. Fishing cats are fairly large and their larger size allows them to wrestle large fish out of the water these stocky cats have short legs and deep chests and most, unlike other felines they have short stubby tails spending most of the time hunting in the water these cats don't need long graceful tails to help them balance.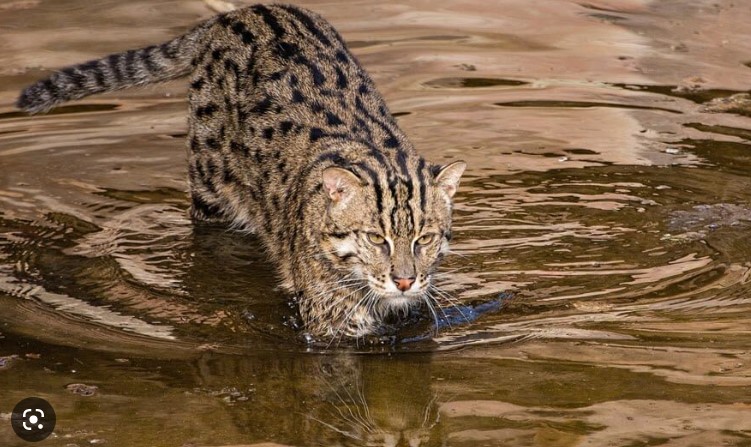 They have a very unfeeling – fashion and fishing cats dive face-first into the water to ambush them pray. They wait for the fish at the water's edge sitting perfectly still until they see a fish. Its head is narrow long and very hydrodynamic because it is built to dive. They have adapted to dive underwater well To make it ease their toes on their front feet have partial webbing which helps them to propel themselves through the water
The short hair on the face is spotted, and the whiskers are short. The ears are short and round and the backside is black.
Fishing cats breed once yearly, during the months of January and February. and Sun Quist, 2002). They probably reach sexual maturity soon after.
One special behavior observed, is that Males help females care for and rear the young. This has been observed when they are in captivity and we don't know exactly whether they repeat this behavior in the wild. The young are cared for by their mother until they reach approximately 10 months of age.