The dog in the picture is named Hachiko.
In 1923, the Japanese citizen (Isabura) found the dog (Hachiko) in a small box inside one of the train cars that he used to take daily to work… and the dog was still a small puppy.. He took it and raised it in his house.. The days pass and Hachiko grows. Isabura used to go to work every day by train, and Hachiko used to drive him to the station and wait at the station until his return about 10 hours later.
A statue of him was designed at the entrance to Shibui Station in Japan, and it is still present.
Loyalty is a word heavier than mountains and longer than ropes.. Its meanings are many: sacrifice, sacrifice, sincerity, giving and loyalty.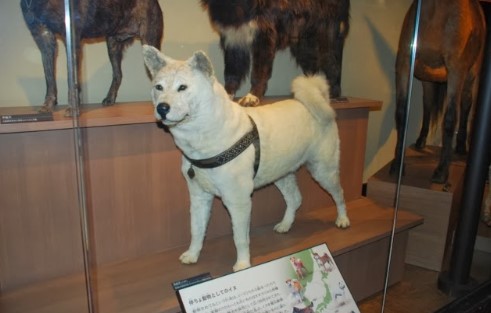 On May 21, 1925, Professor Ueno suffered a cerebral haemorrhage while teaching a class and died. Obviously unaware, Hachiko made his daily journey to Shibuya station and waited for his master.
Ueno failed to turn up, and a heartbroken Hachiko waited several hours before leaving. But he returned at 3 pm the next day. And the next. In fact, Hachiko continued his loyal wait, returning to Shibuya station every day at 3 pm for nearly ten years. Unable to return to Ueno's house, he started living at the nearby home of Ueno's gardener, Kuzaburo Kobayashi.
The story of Hachiko inspired the people of Japan. They used his act of faithfulness as embodying the spirit of family loyalty. This was an example that all Japanese people should aspire to — of devotion to their loved ones.
He was nicknamed Chuken-Hachiko, which means faithful Hachiko. People from across Japan visited Shibuya to give him treats, and in 1934, a bronze statue of Hachiko was erected outside the main gate to Shibuya station. Hachiko was present for the unveiling as guest of honor.
At the age of eleven, on March 8, 1935, Hachiko died. His body was found on a street not far from Shibuya station. He had cancer and a filaria (worm) infection. They took his body to Shibuya station where he was surrounded by mourners including Ueno's partner and station staff.
The gate where Hachiko waited as now called Hachikō-guchi", or "The Hachikō Entrance" in Japanese. One of the train lines is called the Hachiko Line.